Belts, Beards…and now Blades!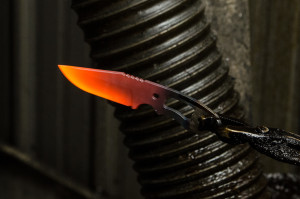 We are so excited to announce the arrival of our Flagrant ForeRunner® knives designed by Bill Coye!  We're offering three versions; a plain edge with scales, a partial serration with scales, and a plain edge with paracord-wrapped handle.
I was given a custom Ridgeback about two years ago from a good friend, and he said if I was ever going to do something with knives, that I had to chat with Mr. Coye.  Man, I am glad I did.  I'm not sure I've ever done business with a better, more stand-up man.  He is absolutely a humble gentleman of character.
Bill Coye spent seventeen years as a street medic and a flight nurse/paramedic working for an air ambulance service. Well designed, quality gear is essential when working in those environments. The ForeRunner® is an evolutionary development of the original Ridgeback design. With Mr. Coye's permission, Flagrant Beard took it a step further by adding the thicker spine on the blade. The Flagrant ForeRunner® is now an even more robust tool so that the "Little big knife" can tackle any job, anywhere, anytime.
To see the entire offering and additional images, click here: https://flagrantbeard.com/product-category/knives/